Sash windows are a common feature in period properties and originals are often in need of renovation. They can also be used in new builds wanting to create a characterful or traditional feel. The word sash simply refers to a single frame for glazing. A traditional sliding sash window is usually made up of two sashes that slide up and down, one in front and one behind, in vertical grooves.
So what is needed for a sash window? Well, there are a lot of clever bits and pieces that go on in sash windows; like cord and pulleys that make the window go up and down and not slam shut. There is also the window furniture that you will need to functionally operate the window and provide a pleasing aesthetic. The following is a discussion of the sash window furniture that is required.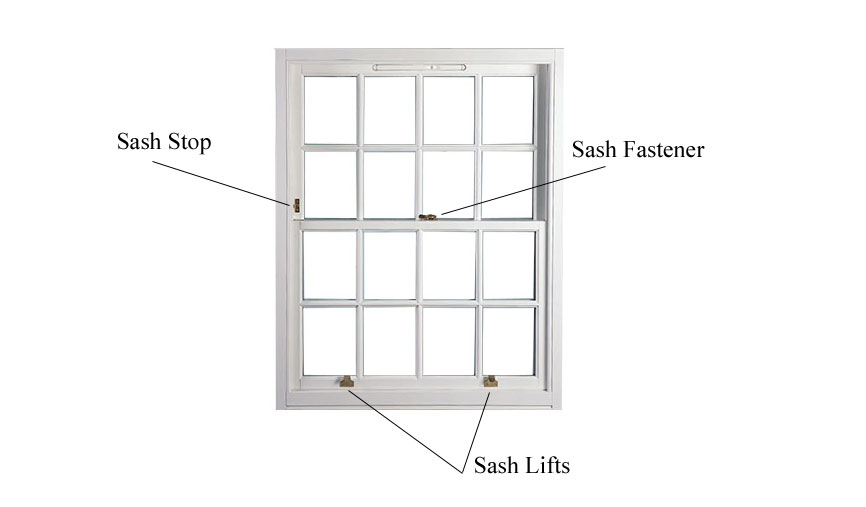 Sash Fasteners
As the name suggests these keep the window fastened, or closed.  There are a few different types (shown below) but they effectively do the same things, it just depends on preference. They pull the sashes together to make a snug fit, as well as stopping people from just sliding the windows up and letting themselves in! Most are available as locking versions too. If the sash is particularly big, two fasteners may be used.
Sash Lifts
These make it easier to lift the sashes (as the name suggests). There are a few different designs - including rings and handles - here again its personal preference that dictates. It would be normal to have two on one window, if there is room.
Sash Locks
One of the most common ways of locking your sash window is to use a sash stop. This is put just above a sash to stop someone sliding it open and it is key operated. The key winds the bolt in to allow the window to slide up. Sometimes another one is placed a few inches higher than the first so that the window can be locked open a few inches for ventilation.
Another way to secure the window is to use a sash screw, These go through both sashes when the windows are closed and prevent them from being opened.

To see the range of sash window furniture on offer at Broughtons, please click here.