Selecting the correct ironmongery for your project can be quite a lengthy task, particularly with the seemingly overwhelming choice on offer these days. Uncovering any originals or referring to photographs can help identify designs and finishes, the key to any successful selection is to be sympathetic and not deviate from your ideas.
Door Knobs
Door knobs create a lovely look and feel to any door, sizes should be in scale with your door width and dimensions. Internal doors are often 30" wide and knobs within the range 50mm - 57mm would be recommended. Wider doors may allow 57mm - 64mm diameter kobs, but always offer up samples to be sure. Smaller knobs of 45mm are available for small cottage type doors. The back-set (which is the distance from the centre if the knob to the edge of the door) dimension is VERY IMPORTANT with door knobs. This is because you need extra clearance for your knuckle when you turn the knob and open the door to enter a room - otherwise your knuckle will hit the door frame. Therefore the depth of the latch mechanism really needs to be 100mm (4"). A smaller 76mm (3") deep latch is sometimes ok but only if the knob is either small or an oval knob in a vertical position so it is really safer to use a 100mm latch.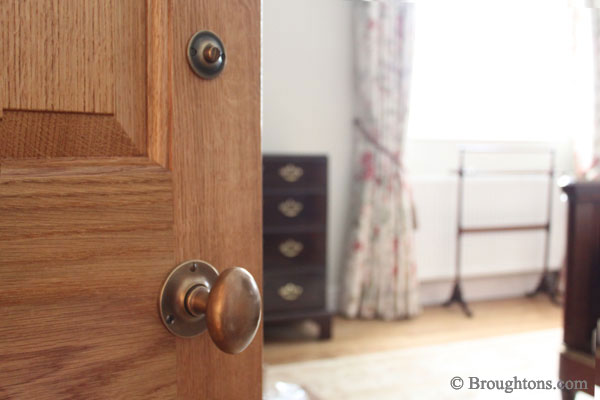 Many original doors were fitted with a 5" or 6" lock where the keyhole (escutcheon) is horizontally positioned alongside the door knob. These horizontal locks are still available. Please note though, the mechanism for door knobs is normally positioned in the midddle rail of a panelled door.
A finger plate adds a little something when fitted above a door knob - maybe just the inside of the principal rooms or every door off a hall for example. As well as the aesthetic appeal it will of course also save the the door from sticky, greasy or dirty fingers! Many decorative styles are available and you don't have to settle for plain and boring.
Rim locks are fitted to the inside face of the door and these were and still are particularly popular for thinner doors as they are not cut into the thickness of the door. Many door knobs available today are suitable for standard mortice installation or for mounting on rim locks or latches (by discarding the back plate of the knob that is mounted on the rim latch/lock), and some door knobs will only suit either one or the other type of installation - do check carefully when buying that it is compatible with your plans.
Door Handles
Lever handles are very popular where the door style dictates or if the existing latch mechanism is 64mm deep (2 1/2") - which is not deep enough for a knob. Lever handles are invariably fitted at a higher position than door knobs and are also more easily operated than a door knob. Indeed, they can be operated with your elbow if carrying a tray or suffering from weak hands. One feature to aim for which is more pleasing aesthetically across all your door furniture is for all the back-plate heights to be standardized for your latch handles, lock handles and bathroom and toilet door handles. This may help narrow down your choice and therefore make the decision as to what to select easier. Door knobs and lever handles are available in an extremely large range of designs and finishes as well as sizes.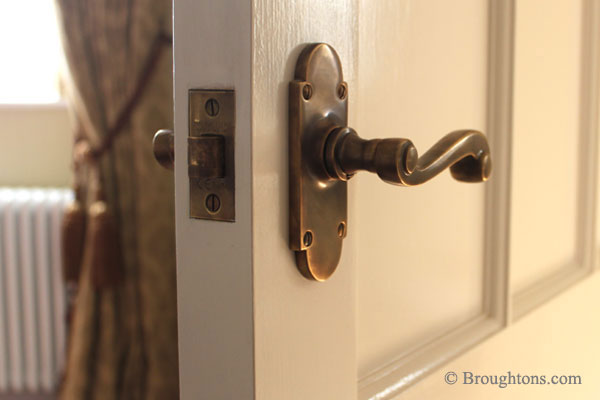 Thumb Latches
Thumb latches (also known as Suffolk Latches) are an ideal choice to add bags of authentic character and rustic charm. They are particularly suited to light and medium weight cottage style doors and there is a surprisingly large choice of style and finish. It is common to also use surface mounted tee hinges (either functional or dummy ones) on the same door to complete the traditional look.
Visit our online shop for a comprehensive range of door furniture.