Ceiling lights, often centrepieces of a room, require careful thought and attention because there are practical as well as aesthetic requirements when choosing what to go for. Here we consider some of the factors involved in choosing lights for your ceilings.
Room function
Kitchens require strong bright lighting around worktops, and softer lighting around the kitchen table, breakfast bar or island. You can opt for several single pendants lined up over a long table or island, or choose a single bar fitting that suspends two or three sources of light. Rise and fall lights also work well in this area as they can bring focus and intimacy to an eating area if desired.
Living rooms often have a large central ceiling light and wall lights and/or lamps that allow you to adjust your lighting depending on your mood.  If you're planning on using multiple points of light in one room, your ceiling light can be smaller and less bright.
A lot less light is needed in bedrooms, although areas to concentrate lighting should be towards the dressing area and bedside. A popular choice is to have a soft ceiling light or small chandelier and stronger bedside lamps for reading.
Large chandeliers are perfect for hallways, stairwells, landings and in houses and stately homes where proportions allow.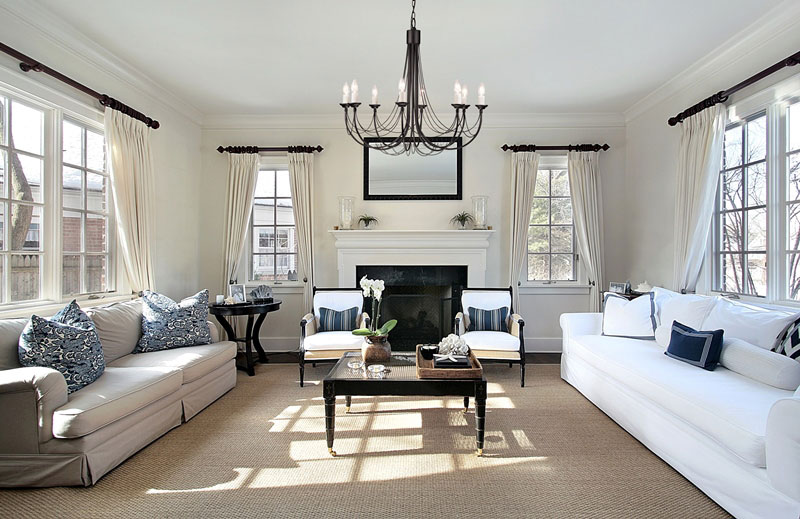 The size of the room
The larger the room, the more lighting will be required. For medium sized rooms, consider a fitting with 3 to 5 lights. Larger rooms may require 5 to 12 lights. Long reception rooms might require two ceiling lights, one at each end.
Ceiling height
Its important to think about the clearance between your head and the ceiling to determine how much "drop" you can have on a fitting. The exception to this is over a table where you can have a longer suspension and just need to allow at least 50cm from the table top for tableware, vases, candlesticks etc.
Low ceilings
Wall lights can be a solution in rooms with low ceilings, but they may not entirely achieve your lighting needs. You can supplement with simple flush spot lights or semi-flush pendants if space allows.
Spot Lights

For directional lighting to highlight specific features, for example a vaulted beamed ceiling or a bookcase or ornament, surface mounted spot lights are a good choice. They can be wall or ceiling mounted and there is a good choice in antique styles to suit more period properties.
Design
Choose lighting that is in keeping with the age and character of your property. It doesn't have to be absolutely faithful to the period in question, so long as you like it and it suits! With regard to colour schemes, for blue, lilac and cool grey rooms, chrome, nickel and silvery tones work best. Red, brown and green rooms tend to suit brass and gold coloured light fittings. Neutral schemes suit all types of lighting.