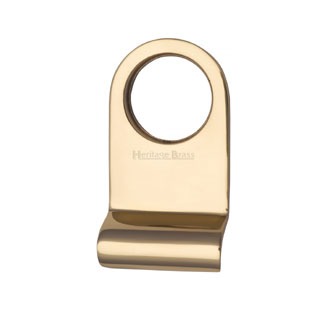 Heritage Brass
Heritage Cylinder Pull V930 Polished Brass
Product Code: DFCP1801PBL
Heritage Cylinder Pull available in a range of finishes and are used to pull the front door closed from the outside which is particularly useful if there is no door handle or centre door knob. It fits around a Yale type cylinder used on a night latch, typically on a front door. Supplied with all fixing screws and fasteners.
This is the polished brass finish which is lacquered. To care for this finish, regularly remove dirt and watermarks with a non-abrasive cloth. If used outside the lacquer will break down quicker than indoors so applying a non-abrasive wax coating may extend its life. DO NOT USE metal cleaners or aerosol sprays as these will damage the lacquer. External fittings will also benefit from a periodic light oiling of springs and moving parts.
Dimensions:
Length: 84mm
Width: 45mm
Please Note: Most Heritage Brass product images carry a watermark or logo, this is to protect copyright and is not a feature of the end product.
Please allow Up To 1 Week for this item to be delivered. This is an estimate based on our experience and should be used as a guide. It may take more or less time than this.
If you are a retail customer in the UK then when we send you your Goods you will also receive a delivery/returns note (as well as your receipt). Full instructions on how to return the Goods to us are on the delivery/returns note. You have 14 days from date of receipt to return Goods to us and do not have to give a reason for doing so. You will have to pay for the return of the Goods but will receive a refund that includes the cost of the original delivery. You can either organize the return yourself (getting proof of postage) or (mainland UK only) we can arrange a collection via our courier (at a charge of £15 per parcel).

If you are NOT a retail customer or you are outside of the UK then you will not be able to return goods to us unless they are faulty.

If you receive damaged or faulty Goods then you should contact us to arrange the return within 48 hours of your receipt of the Goods. If we confirm when the Goods arrive back with us that they are damaged or faulty, then you will not be liable for the cost of returning the Goods. You will be offered a replacement or refund.

We regret that we cannot accept returns for Special Order items (unless damaged or faulty). A Special Order item would typically be any item that is not in stock.

We cannot be held responsible for packages lost, delayed or damaged in transit. For your protection if you are returning Goods to us, we recommend that you send your package by Royal Mail Special Delivery.
Average rating:
Brassed-up
Reviewed by John D. on 22nd Aug 2019
Our entrance door was long overdue a freshen up. We again elected to go for Heritage Brass and have to say that the net result look great against our dark choice of colour finish. A fine, well made, traditional-style product, which adds a touch of class with the matching door handle and letter-box. Very pleased.
---
If all the items on your order are in stock, we endeavour to despatch it within 2-3 days on a next day service to mainland UK. Other destinations will have longer transit times.

If your order contains some products that have to be made or ordered specially, we will usually wait for all your ordered items to be in stock before despatch. Please contact us if you would like parts of your order to be despatched as and when they become available. This would attract a separate delivery charge for each delivery.

Delivery charges vary based on your address and the items in the delivery:

For Mainland UK (excluding Scottish Highlands) orders over £100 have FREE delivery (excludes radiators, stoves and palletized lighting) and most orders under £100 have a £5 delivery charge (£3 for small items and £7.50 for items over 1 metre such as espagnolette bolts and curtain poles).

For Offshore UK, the Scottish Highlands, Europe and the Rest of the World, please click here for more information.

During the checkout process you will be able to choose a delivery method suitable for your items and see the corresponding delivery charge, and you can also collect instore for FREE. Once despatched by us, our delivery partners DPD (if chosen) will contact you with a one-hour delivery window. You can give them specific delivery instructions or rearrange delivery for FREE. To find out more about this service please visit the DPD Predict website.
Product Code: DFCP1801PBL