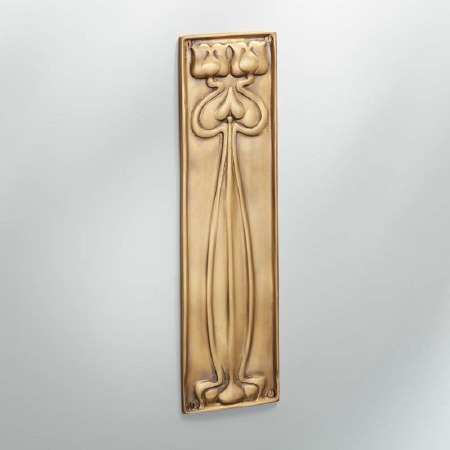 Broughtons
Finger Plate Flower Antique Satin Brass
Product Code: DFFP0024ASB
A flower design vintage style finger plate made from solid cast brass finished in antique satin brass.
A finger plate fitted above a door knob not only enhances the appearance it also helps to protect the finish of the door from scratches and wear.
Supplied complete with screws.
Antique satin brass is a living finish that is produced by hand. It is unlacquered so it will oxidise as it is exposed to the air and it will mellow and develop a rich patina with age and use. It can be polished back to achieve a lighter brighter finish or left to age further. This natural ageing combined with the hand crafted nature of the finish means that there may be differences in colour and detail. This all adds to the beauty, character and individuality of each product. Do bear this in mind if you are buying items over a period of time.We have an extensive range of items in this characterful finish including door furniture, window furniture, cabinet-ware and electrical hardware.Dimensions:
Height: 278mm, Width: 73mm
Our live stock figures show that we currently have 10+ in stock. If you would like to order more than the current in stock quantity then the expected lead time for this product is Up To 6 Weeks.
If you are a retail customer in the UK then when we send you your Goods you will also receive a delivery/returns note (as well as your receipt). Full instructions on how to return the Goods to us are on the delivery/returns note. You have 14 days from date of receipt to return Goods to us and do not have to give a reason for doing so. You will have to pay for the return of the Goods but will receive a refund that includes the cost of the original delivery. You can either organize the return yourself (getting proof of postage) or (mainland UK only) we can arrange a collection via our courier (at a charge of £15 per parcel).

If you are NOT a retail customer or you are outside of the UK then you will not be able to return goods to us unless they are faulty.

If you receive damaged or faulty Goods then you should contact us to arrange the return within 48 hours of your receipt of the Goods. If we confirm when the Goods arrive back with us that they are damaged or faulty, then you will not be liable for the cost of returning the Goods. You will be offered a replacement or refund.

We regret that we cannot accept returns for Special Order items (unless damaged or faulty). A Special Order item would typically be any item that is not in stock.

We cannot be held responsible for packages lost, delayed or damaged in transit. For your protection if you are returning Goods to us, we recommend that you send your package by Royal Mail Special Delivery.
Average rating:
Finger plates
Reviewed by Susan P. on 2nd Apr 2023
Excellent quality and outstanding service.
---
Great quality and look authentic
Reviewed by Roger S. on 17th Jan 2023
Made from heavy solid brass and look aged. Very happy with them. So much so, I bought some more.
---
Brass finger plates
Reviewed by John F. on 19th Sep 2022
I was very impressed with them. They look great on my new doors. Excellent quality.
---
Splendid
Reviewed by Ann W. on 1st Jul 2022
After receiving 2 of these finger plates some time ago , I was eager to get 2 more .
They are really lovely, so well made, .
The service is excellent and they arrived by return post.
A pleasure to do business with this company.
---
Splendid
Reviewed by Ann W. on 26th May 2022
Love these art nouveau finger plates , better than anticipated.
The service was excellent, they arrived the next day , then they were on the door !
---
Brass Finger Plate
Reviewed by Bruce P. on 13th May 2022
Good quality fingerplate.
---
Excellent
Reviewed by Cecilia E. on 28th Apr 2022
Delivery rapid.
Client contact excellent.
Love product. Actually on the inside of the bathroom door. Adds a touch of glamour.
---
Good quality
Reviewed by Craig M. on 15th Apr 2022
Nice heavy cast finger plate. Better than pressed alternatives.
---
Glam Fingerplate
Reviewed by Simone C. on 22nd Mar 2022
Love the fingerplate - just the finishing touch I required to my newly restored door - looks very glamorous
---
Superb
Reviewed by A M. on 17th Sep 2021
These finger plates are absolutely beautiful. The quality for the price is fantastic. They look gorgeous on my doors and replaces a feature that had been removed from my doors in the past. The style is perfect and adds a lovely period touch to my Edwardian house.
---
Wow! Just beautiful!
Reviewed by Julie S. on 2nd Apr 2021
So pleased with this item: very high quality and simply beautiful. Excellent value. I loved the design when I ordered it but couldn't tell how solid it might be, as some finger plates can be very thin and bendable. This is very solid - couldn't bend it if I tried. Beautifully renovated - perfect! Delivery prompt and carefully packaged. Thank you.
---
Excellent product
Reviewed by Roger B. on 14th Dec 2020
Solid brass rather than pressed so good quality and looks if cast from original moulds. Cleans up very well if a brighter appearance is required. Now joins the other 14 I have purchased before!
---
Absolutely beautiful
Reviewed by Rona O. on 21st Oct 2020
This finger plate is superbly made, solid quality of casting and authentic design. In situ it looks just perfect. Highly recommended. Good communication with updates of posting etc. Excellent service!
---
Art nouveau finger plate
Reviewed by Alison H. on 13th Jul 2020
Was really surprised at the quality of these finger plates. I thought for such a reasonable price they may be a bit flimsy but they are heavy and good quality and such a gorgeous design. I would definitely buy from this company again and whole heartedly recommend to anyone else.
---
Finger Plate
Reviewed by Brendan F. on 1st Jun 2020
Excellent on line communication, extremely efficient and prompt delivery. Excellent quality and good value for money. Very Accessible website. Brendan F
---
Brass finger plate
Reviewed by Bob T. on 31st Dec 2019
Excellent quality plate, made of cast brass. Good communication and prompt delivery.
---
Gorgeous fingerplate
Reviewed by Jan O. on 30th Jan 2018
These are solid brass so will last a lifetime. The colour exactly matches the original Edwardian door handles. They look like they've always been on the doors.
---
If all the items on your order are in stock, we endeavour to despatch it within 2-3 days on a next day service to mainland UK. Other destinations will have longer transit times.

If your order contains some products that have to be made or ordered specially, we will usually wait for all your ordered items to be in stock before despatch. Please contact us if you would like parts of your order to be despatched as and when they become available. This would attract a separate delivery charge for each delivery.

Delivery charges vary based on your address and the items in the delivery:

For Mainland UK (excluding Scottish Highlands) orders over £100 have FREE delivery (excludes radiators, stoves and palletized lighting) and most orders under £100 have a £5 delivery charge (£3 for small items and £7.50 for items over 1 metre such as espagnolette bolts and curtain poles).

For Offshore UK, the Scottish Highlands, Europe and the Rest of the World, please click here for more information.

During the checkout process you will be able to choose a delivery method suitable for your items and see the corresponding delivery charge, and you can also collect instore for FREE. Once despatched by us, our delivery partners DPD (if chosen) will contact you with a one-hour delivery window. You can give them specific delivery instructions or rearrange delivery for FREE. To find out more about this service please visit the DPD Predict website.
Product Code: DFFP0024ASB