When restoring your period home, it can be a daunting task to try and choose hardware and lighting that are from the appropriate architectural period - especially if you are determined to achieve an authentic restoration. What follows is a brief discussion of different eras from Georgian to Art Deco and how architecture was styled in that time.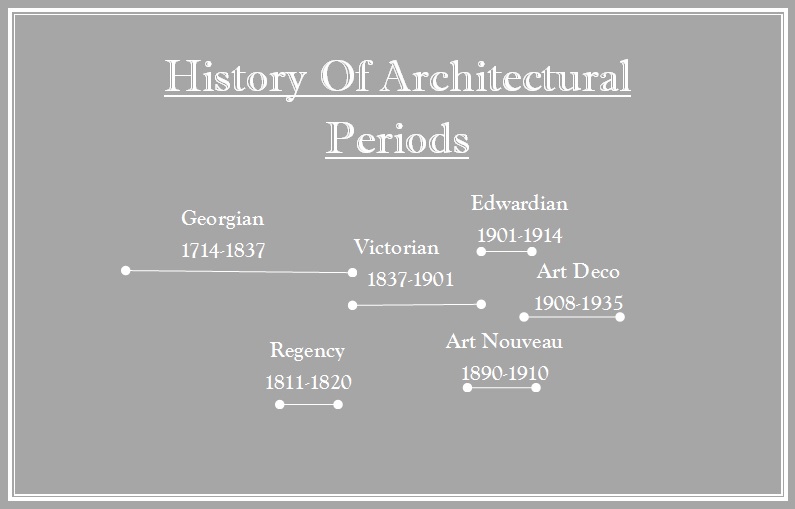 Georgian 1714-1837 (& Regency 1811 - 1820)
This covers the period under the reign of four King Georges (and a Willliam): George I 1714-1727, George II 1727-1760, George III who reigned from 1760 until 1810 when he became ill so a Regency was established until his death in 1829, when Price Regent George IV became king until 1830. William IV (younger brother of George IV) reigned for a short 7 years, before his death in 1837.
The Georgian period saw Britain's first Prime Minister Robert Walpole; Captain Cook made his first voyage to the Pacific; Robinson Crusoe was published and Jane Austen was born.
Georgian houses have certain characteristics, which can include:
Sash windows. These were the most common window type and earlier versions had more panes of glass. Six-over-six was typical of early Georgian era, but by the end four-over-four or even two-over-two was used as it became possible to make larger panes of glass.

Panelled and painted front doors

Symmetry

Classical motifs, columns and other features of Roman architecture.

Victorian 1837-1901
Queen Victoria reigned from 1837 until her death in 1901. Architecture really started to change at this time, thanks to the new steam railways and being able to transport more goods. Welsh slate started to repalce a lot of tiles, and glass window panes got bigger as bigger panes of glass were made.
This era saw the first pedal bicycle invented; the first photograph taken in Britain; the first postage stamps and post boxes and the world's first underground railway (to name but a few!).
Characteristics of a Victorian home can include:
Bay windows

Patterns in the brickwork from coloured bricks

Stained glass in doorways and windows

Sash windows

Decorated roof lines and slates

Geometric terracotta floor tiles

Edwardian 1901-1914
This relatively brief period covers the reign of Edward VII. During this time, an expedition to the Antartic located the south magentic pole; Charles Stewart Rolls and Henry Royce built their most famous car, the Silver Ghost; and Beatrix Potter published The Tale of Peter Rabbit.
Characteristics of an Edwardian house can include:
Small paned leaded windows

Half timbering

Small feature windows to create a picturesque effect

No dado rail, only picture rail

Brackets and decorative fretwork

Art Nouveau 1890-1910
Art Nouveau is an international style of art, architecture and applied art, especially the decorative arts, that was most popular between 1890 and 1910. Many examples of this style can be found around the world including many buildings by Gaudi in Barcelona, Lindenbaum House, Budapest and Hotel Central in Prague.
Themes in this period would be:
rose, iris, waterlily, dragonfly, butterfly, snail and peacock

strong, asymmetric shapes
Art Deco 1908 - 1935
Art Deco, or sometimes just referred to as Deco, is a style of visual arts, architecture and design that first appeared in France before the First World War. New materials arrived, including chrome plating and stainless steel. Bakelite was invented in 1907 and this opened up the door to moulded plastics and other materials.
Characteristics of an Art Deco building:
Streamlining

Bold shapes

Colour

Geometric designs

Decoration