Cinema History
History of the Old Cinema
Broughtons of Leicester Ltd moved from Churchgate in Leicester in 2002 to increase the size of the Showroom and make access and parking more convenient for our customers. We moved to the Old Cinema in Anstey, a building with a particularly colourful past!
The building of the Cinema (Picture House) was completed in 1937 - the year of the coronation of King George VI and Queen Elizabeth. Before construction began there was a large bill board which read "SITE FOR NEW CINEMA BALLROOM & RESTAURANT". The completion of the cinema was a few months after the Coronation. The Coronet was built by local businessman and entrepreneur Mr. Albert (Bert) Baum. He also operated a bicycle shop and another Picture House called 'The Futurist' both in the near by village of Sileby. He was a successful businessman and would probably be on Dragons Den if around today!
At that time Anstey (still only a village) had three Cinemas, 'The Picture House' called locally the 'fleapit' was a converted shed and after the opening of the Coronet, the 'shed' was rebuilt and called 'The Regent'. The third was on Standon Road. Mr.Baum travelled to Birmingham on his motorbike three times a week to get new films and news reels. The first film to be shown at the Coronet was "San Francisco" starring Clark Gable and Jeanette. The Coronet was later rebranded the SAVOY Cinema. The projectors used were Kalee 6 and 7.
We have a copy of the memoirs published by Mr. D H Stainforth who recalls the construction and later his employment as 'projectionist' at the Coronet.
With the arrival of access to motor cars people began to travel to 'town' and visit the larger Cinemas. It was about this time the building was converted to a Garage Workshop. The building has a lot of Steel work and we understand these made ideal engine hoists! The photograph here is believed to be the late 1950's early 1960's and is taken facing the back of the showroom, our sales counter is now on the right hand side.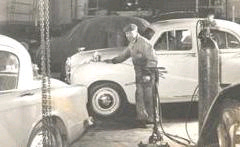 Since then the building has been an Esso filling station, the Savoy Restaurant and the Pink Elephant Indian Restaurant until its time today as our spectacular showroom.