Earlier this month Broughton's Director, Tony Whitmore celebrated 35 Years as an Ironmonger. Tony started working at Broughtons when he was just 17 years old.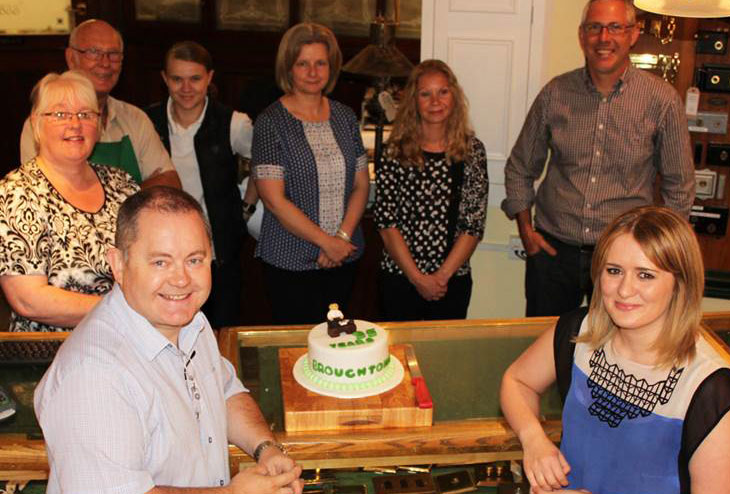 "The 35 years have flown by, I wish my golf had improved and adapted as much as Broughtons has over the years!"
Broughtons over the years
"When I first started at Broughtons all those years ago everyone was buying lacquered brass and the choice of finishes was very limited. Nowadays we have so much more - antique brass, antique satin brass, hand aged brass (which is all done in house by our craftsman Mike, he can get all your electrical switches and sockets to match the rest of your brass), polished and satin chrome or nickel as well as hand forged iron to name but a few.
I started work at the shop in Churchgate back in 1980 and when I think back to those times in the city centre I remember how limited we were with a small car park for just 4 cars!
Since our move out to The Old Cinema in Anstey 13 years ago we now have 4 showrooms "chock-a-block" with everything you could hope for, together with a much larger car park, an Interiors department and a coffee lounge for customers to relax in.
Trading hours have also increased to 7 days a week so a spot of shopping or coffee can be incorporated into any day out enjoying the local countryside such as Bradgate Park.
The internet side of the business has really taken off in the last 15 years and some Broughtons products have gone as far away as Hong Kong, Australia, Taiwan and the Falkland Islands!
I can also recall a customer in London calling to ask if there was an area to land his helicopter which we accommodated with the help of a local restaurant with a large garden.
Broughtons as a small family run business has had to adapt over the years to the changing times and styles just to survive and I am very proud that we are still here and still successful down to the team's hard work and commitment."
Tony Whitmore